Let us help you protect your automotive investment.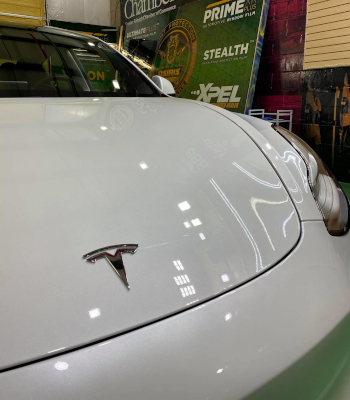 Purchasing your vehicle is one of the most significant investments you'll make. Knowing this, you want to do everything you can to protect it. This includes applying paint protection to keep it looking showroom worthy. At Osiris Paint Protection & Window Films, we offer various paint protection services. Continue reading to learn why this type of protection is essential in the Johnston County, North Carolina area, and then give our team a call.
Environmental Protection. The paint on your car is always vulnerable to things like UV rays, tree sap, and pollutants. These things cause the paint surface to fade, oxidize, and rust. Paint protection is a barrier between these things, protecting your car's paint job from damage and helping it look better for longer.
Long-Lasting Shine. As mentioned above, a good paint protection product can help your car's paint look better and last longer. It also smooths the surface so that water, dust, and dirt don't stick. This makes cleaning easier and keeps the car shining for longer. Our team uses quality products from brands like Gtechniq to help us achieve the shine you crave.
Avoiding Swirl Marks and Scratches. If you wash and clean your car with the wrong method, the paint can get swirl marks and tiny scratches. Paint protection adds extra security, making such flaws less likely to appear.
Retaining Resale Value. If you plan to sell your car, keeping the paint in good shape can make it much more valuable. Potential buyers will appreciate your attention to detail and respect how well you've cared for the car.
It's important to understand that different kinds of paint protection and applications exist. Our team's specialty is knowing what to use and when to use it. We can provide you with the paint protection you need from the industry's leading brands. Contact us today to learn more.
---
At Osiris Paint Protection & Window Films, we offer paint protection services for customers in the Triangle and Wake County, including Raleigh, Durham, Cary, Apex, Burlington, Charlotte, and Morrisville; Johnston County, including Clayton and Smithfield; and the rest of North Carolina, plus all surrounding states, including South Carolina, Georgia, Florida, Virginia, Washington, D.C., and Maryland.
Similar Services We Offer: