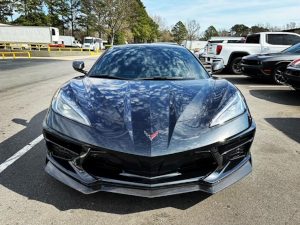 When it comes to protecting your luxury vehicle, you want the best product that offers the most comprehensive protection for your lifestyle. Two products stand out as popular and effective options in the automotive industry: ceramic coatings and paint protection film. While both offer excellent protection and will keep your vehicle looking great, they serve distinct purposes. So which one is right for you?
Understanding the difference between these two products is a helpful place to start. A ceramic coating is a liquid polymer that chemically bonds with your car's paint to form a protective layer with a glossy finish. This effect enhances the look of your vehicle while also making it more resistant to dirt, water, and harmful UV rays that can all wear on a car's paint over time.
In contrast, paint protection films are clear films that adhere to your vehicle and do not affect its appearance. These films offer protection from more elements than ceramic coatings can, making the paint job resistant to scratches, dings, and chips.
The choice between a ceramic coating and paint protection film depends on your goals for the product. If you primarily want to protect your car from scratches and more abrasive elements, a paint protection film will likely be the better choice. However, if you want to enhance the look of your vehicle while making it easier to clean, a ceramic coating is the way to go.
If you need help deciding, give our experienced team at Osiris Paint Protection & Window Films a call. We offer both options and can help guide you to the best choice for your luxury vehicle.