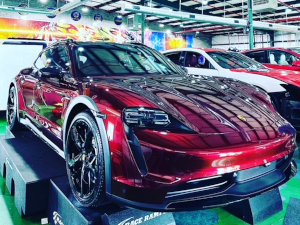 Owning a luxury vehicle is a way of life. Caring for your car is a passion, and protecting it is a priority. When it comes to your vehicle's paint job, you want to make sure you invest in the best protection on the market, but it can be difficult to choose the right product for your needs.
Here is an overview of four paint protection options for your luxury vehicle:
Paint protection film (PPF) – Also known as a clear bra for cars, paint protection film is a self-healing, polyurethane layer applied to your car that is resistant to scratches, chips, and dings. Paint protection films offer an enduring defense for your car's paint job.
Ceramic coating – A ceramic coating adds a protective hydrophobic layer to your car's exterior. It also gives your vehicle an enhanced, glossy finish, making it look great while being easier to clean.
Vehicle make-specific protection – If you drive a Porsche, Tesla, or exotic car, we offer specific packages expertly tailored to the unique needs of each model. Whether you're looking to protect a section of your vehicle or every square inch, our protection packages will keep your vehicle looking immaculate.
XPEL paint protection – As an XPEL authorized dealer, our certified team proudly installs XPEL paint protection products. XPEL offers exceptional quality and powerful innovation for unmatched protection.
There are many paint protection products on the market, but you need to choose the best for your luxury vehicle. Give our team at Osiris Paint Protection & Window Films a call, and we can help you choose the perfect paint protection option for your ride.